MAUI WEDDINGS ADD-ONS
The add-ons to a Maui wedding are fun. I can have a silver and lace cake table set up for you and one 'ono' tasting wedding cake to cut. I cannot serve alcohol on the beach; private location only. Any of my Maui weddings on the beach can have the following add-ons to create your own custom package.
FORMAL CAKE AND SPARKLING CIDER TABLE
$400
Have this table catered for your guests at the oceanfront or garden wedding site. If you are alone, have it just for you to share. An intimate toast and the wedding cake make great photos for the album and activity for the video.
WHITE DOVES RELEASE
 2/$75 – 5/$100
Doves choose one partner for life and make this commitment until death. The white dove has been used throughout history as a symbol of love, peace, purity, faithfulness and prosperity. It is said that if doves are seen on your wedding day, a happy home is assured. From this day forward, when ever you see a white dove, may you be reminded of this moment.
VIDEO OF THE WEDDING
UNEDITED $400
DELUXE EDITED VIDEO $600
The entire wedding experience, titled and dubbed with Hawaiian music.   Drone coverage available $300 additional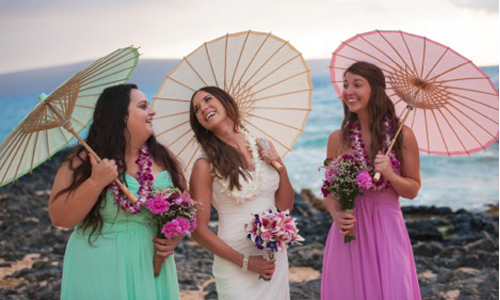 PARASOLS
$25./each
Parasols are great fun, I can order any color you like parasol for reasonable rates. As many as you require!