Maui Wedding Flowers and Leis
Maui Wedding Lei
Lei greeting is a traditional Hawaiian etiquette that we include in all our wedding ceremonies. The exchange of leis is a sign of welcoming, love, and aloha. There are two leis included in each Maui wedding ceremony. The bridal lei is a white orchid and tuberose lei. The white orchid offers a nice visual, and the tuberose adds fragrance. The grooms lei is a green ti leaf lei. Green ti leaf leis are a symbol of appreciation, admiration, and respect. It is not fragrant but offers a nice visual and symbolic offering.The green ti leaf is a beautiful and green and thrives in the shade and cool of Haleakala below the 2,000 foot in elevation. The Ti leaf lei can be upgraded to a Big Island Maile lei entwined with orchid and tuberose. You can upgrade to a world of choice. If you google image 'Hawaiian lei' you will find more than you can imagine. I can duplicate anything you find. I have been here 36 years, I know who to call and where to find it. You can upgrade to anything your heart desires. Try google image 'Hawaiian lei' and you will find more than you want to choose from.
Big Island Maile Lei
This is the very fragrant traditional Big Island Maile Lei twisted with orchid to match the brides orchid lei. You can have the Maile Lei made with or without the twist.
Blue Crown Flower Lei This can also be woven together in a boxlike pattern with the purplish blue crown flower and bozo spacers. Again, made to order but only one strand.
Maui Wedding Bouquets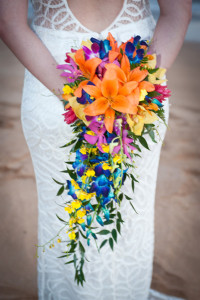 Maui weddings are about flowers, color and smiles!
Treat your wedding day to a bouquet, and a hair flower of some sort. A beautiful bridal bouquet is a wonderful choice to brighten you wedding day. Not only does it compliment the lei, it adds as a vibrant prop for photos. The bouquet style is really all up to your imagination and preference of color combinations. Flowers offered here in Hawaii come in many color palettes and include tropical flowers, traditional assorted, or roses.
If you have a specific bouquet design in mind, it is best to send a photo and my florist of 30 years experience can duplicate your perfect bouquet for you. Gardenia's are lovely, haku's are very Hawaiian and I have never seen a bride not look awesome wearing one. Braids, jeweled crowns, flower crowns. It's all a good and can be yours, if you like, for close to my cost.
Please see the Add-ons page. Here are a few photos of the loveliest bouquets: